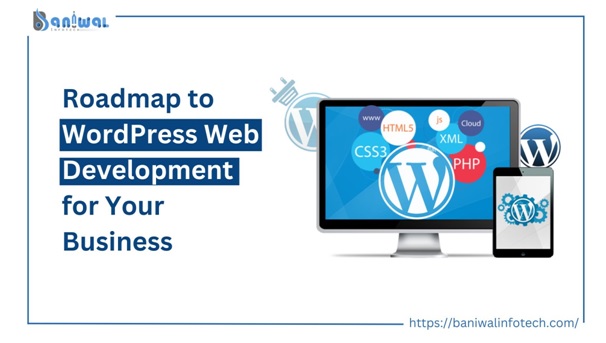 In this digital world, it is impossible to establish an online presence without a website or web app. It is the very basic step and the backbone of the online business revenue generation model. WordPress offers open-source, free-to-use prebuilt custom templates for small to moderate-traffic web apps. It can support complex multi-vendor platforms with required customizations and is a boon for businesses with a chance to go digital.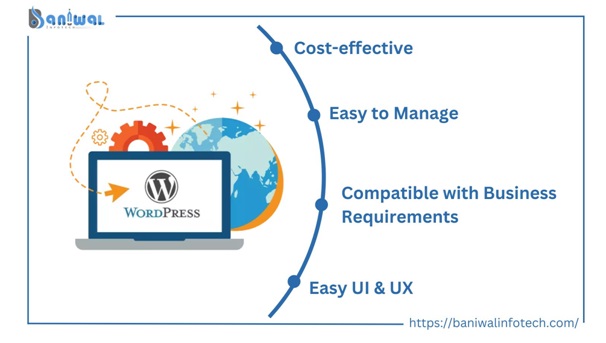 Why You Should Opt for One?
WordPress Web Development offers an opportunity for business to grow their business on a budget. As with the least development and maintenance costs involved it can be maintained with no to least technical knowledge. Also, it gives an advantage in cost-cutting and managing the business by oneself. Web WordPress App Solutions can be automatized with third-party APIs and efficiently smoothen up the complete business working module. Let's understand why you should opt for it and how WordPress Website Development Services can help you in business growth -
Cost-effective –

WordPress is an open-source website development platform, with custom-build template options. It works with the help of third-party and in-built plug-ins. This helps in elimination of the requirement of writing codes from scratch. Hence resulting in the overall cost-reduction of the project.

Easy to Manage –

WordPress management doesn't require much technical knowledge. You can do it yourself or hire the Best WordPress Web Development Company for platform development. Apart from platform development, you can manage it in-house, like the addition of products, services or the addition or deletion of multiple service pages etc.

Also Read: Tips To Choose an Ideal WordPress Development Services Provider Company



Compatible with Business Requirements –

A business in the growth stage, usually have a manageable number of clients or vendors. The initial setup with WordPress seems easy and feasible per business requirements. It is smooth, easy to manage, cost-effective and covers all your business requirements. Also, you can upgrade it as per changing business requirements and workload on the website.

Easy UI & UX –

With millions of user bases, WordPress offers the easiest UI & UX in comparison to any other website development platform. With attractive templates, customization and additional plug-ins you can make it as attractive as a coded website. With the most efficient WordPress Development Services Provider, you can develop an attractive and user-friendly web platform usually within two weeks.

How to Develop an Effective WordPress Website for Your Business




Hire the Best Team –

Find the best WordPress Development Services Provider for an efficient, cost-effective, and fast web app development process. Hiring an efficient team gives you the upper hand. It helps to eliminate the unwanted costs involved in the development process due to inexperienced team members. Also, they usually have the compatible resources required for better web app development.

Business Requirement Analysis –

Understand your business requirement and the business module. Also, analyze the tech requirements and support required for the website development. It affects the overall tech stack requirement of the project and lets you opt for the most optimum one

Resource & Team Management –

This is a crucial process of analyzing the resource requirement. In this step, you can understand the servers required, the development requirements, and the platform maintenance. Also, the team of personnel needed to be involved in the web development process.

Blueprinting and Plan Layout –

This is the most crucial step of the website development solution. In the blueprinting stage, you prepare the website layout, set target timelines and use your best efforts to achieve them with set modules. The efficient WordPress Website Development Services advocate this step to maximize the output for more structured and clear working stages. When you do this, it reduces the chances of the overall project delay. Also, it saves you the unexpected cost that occurred in the process.

Development & Testing –

The Website development process is initiated after deploying the necessary resources and technology. Divided into modules, developers and testers remain involved to make it error-free and easy to use. But when the website is 100% completed it comes under the testing module. Here it is tested by simulated attacks, going through the platforms from the users' point of view and removing any hurdles or non-required steps to make it user-friendly.

Deployment & Maintenance –

When you hire the best WordPress Web Development Company , they take care of the complete development and deployment process themselves. At least until your web platform is up and running. Regarding website maintenance, you can either hire a maintenance service provider or do it in-house. Although it can be done by yourself, it is considered best to get professional help. It supports keeping the website up and running 24*7 and tackles the situations like server issues, templates and plug-in updates etc. And on the plus side, you can majorly focus on completely running your business.

Conclusion

Now we understand how hiring professional WordPress Website Development Services can help in the cost-effective web development process. And why you should choose the WordPress platform for web app development for your business. With many major benefits, WordPress offers you a long-term digital presence with updates and maintenance cycles. At Baniwal Infotech, we understand the utility of web platforms for businesses. With an experienced team, we hold fruitful experience in WordPress Website development solutions for small, medium and large-scale enterprises over the years. By hiring the WordPress Development Services Provider, you can develop, maintain and use it to its optimum output from the initial stage. It is the ultimate roadmap to take your business online, with the least development and maintenance cost involved.