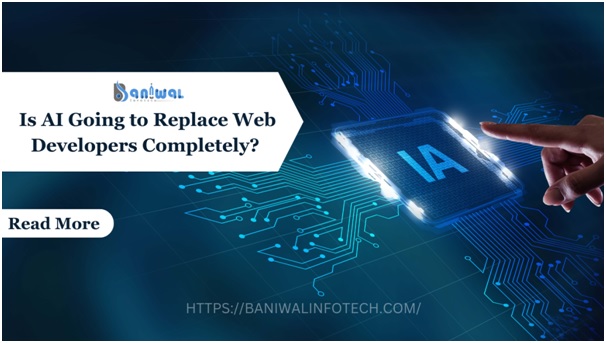 The straight answer to this question is no, AI cannot replace web developers completely. At least not in the near foreseen future. With modern technology and its implication in different fields, we know that AI is going to worlds. Implementing AI in Web Application Development is not only a genius move but also a cost-effective one. Due to some drawbacks, a website completely cannot be developed by AI even with the new developments. But it surely gives a helping hand by complimentary implication along with the experienced developers.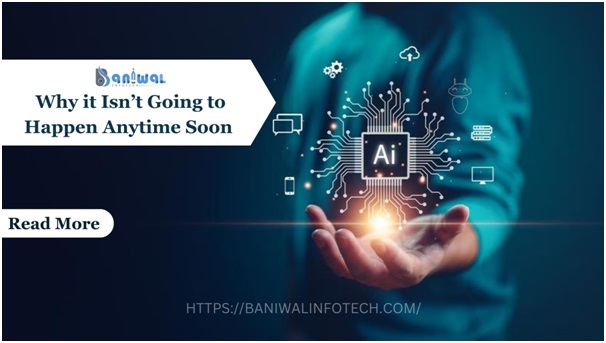 Why it Isn't Going to Happen Anytime Soon
Code Generation & Modification:

With AI-generated codes comes the complexity of code modification. As AI-generated codes can always not be right, they may get written instantly but there is a huge possibility that they may not even work or would be buggy. Modifying those AI-generated codes could be more tiring than writing one by yourself. This is one of the major reasons that AI is not going to replace human coders and web developers. Because those codes can be used for repetitive or work of the same nature, without customization. But it would surely fail anywhere else.

Bugs & Error Fixes:

Using AI-generated Web App Development Services can seem cost-effective but it is surely not in the long run. Web development is an ever-evolving process, and comes with a lot of hit-and-trial steps. Codes need to be scrutinized, to remove eros and existing bugs before final implementation in the form of the web app. This process is more effective with manual scrutiny rather than using AI software for the process. This process eventually increases the man-hour, resources employed and the overall project cost immensely.

Code Alteration & Changes:

In case of any updation or customization, the codes may need to be completely updated or changed. Also, the developer may need to delete any one section instead of the complete file. Again this is a lengthy, tiring and costly affair for AI-generated content. Because scrutinizing every code line will take a lot of time. Ultimately it will increase the overall project cost exceeding the allocated budget.

Client Communication & Implication:

The biggest defect in the web app development process is the clear communication of the project idea. Most of the time business owners and clients don't know how to give clear instructions to develop their projects. With human developers, it is possible to understand the idea and convert it into a feasible project. Such AI most probably will miss those soft skills and may create blunders in designing the web app without clear instructions and guidelines in the development process.

Creativity & Ideation:

In the creative Web Application Development process, the AI-generated codes are usually developed on the already exciting idea, designs and concepts on the internet. Hence it is not adding anything new to the concept. But when it is designed by human developers every time the concept, idea and designs are new, unique, and different. With innovative projects and businesses, the ideations need to be the same, and the communication irrespective of the platform should follow the same concept.

Project Confidentiality & Secrecy:

With humans contract to abide by the law, but with AI you don't own the information they have produces and can be further shared without requiring any legal consent. This places your complete project in jeopardy and holds the chance of duplicity or can be used by your competitors. This becomes more effective in the case of technology, strategy or algorithm-based web app development. As it may get leaked in the world if AI software even suggested it to someone else as an example and lose all the confidentiality and competitive edge in the process.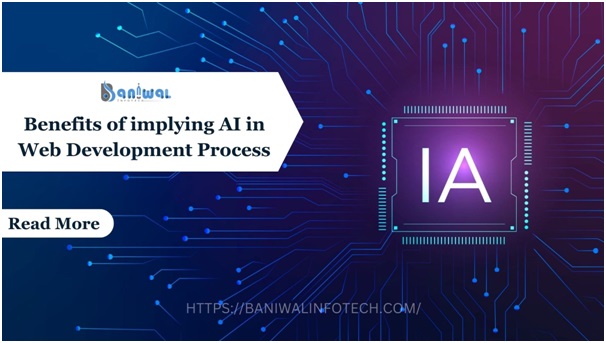 Benefits of implying AI in Web Development Process
1) Using AI in the Web Application Development process helps to eliminate the need for repeated code writing, and also minimizes the time required in the development process by scrutiny and command writing commands given by the developers.
2) AI can also help in website optimization with uniform codes and enhance user experience at the same time. It will help decrease the bounce rate due to slow, non-attractive websites.
3) Using human developers for Web App Development Services is optimum but using AI alongside the developers can create a competitive edge with working and clean codes. And a more cost-effective approach with a mix of human and technical minds toward web app development.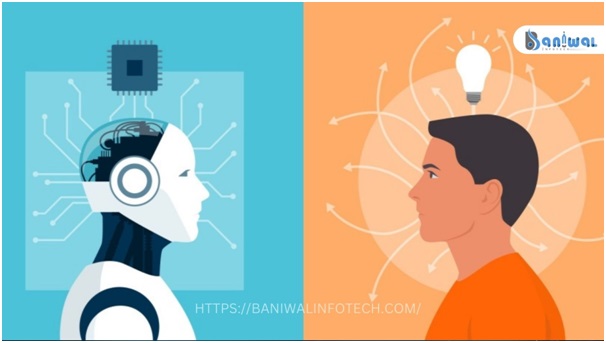 Conclusion
Web Application Development is a costly affair for every organization. Solutions like AI implementation can do wonders in making a wonderful web app without costing them a fortune. But using AI for major Web App Development Services cannot be fruitful yet. AI for code generation and human web app developers can work side by side complementary. But the first one cannot replace the latter completely.
FAQs
Can AI is Use for Coding?
As per recent trends, AI is playing a major part in website creation. Like code writing for repeated tasks, working on a completely structured model and much more. Though AI can be used for a minor part of coding, the major concern is the time and cost-effectiveness that comes from it. Using AI you cannot cut down the complete cost of a development team or make it in-house yourself. But AI is used to make the website more uniform, subtle and SEO friendly using clean and customized codes.
Can I Create a Website Using AI?
There are a lot of questions regarding the use of AI for in-house website development. As AI can write codes as per given commands. But the short answer is, no you cannot create a fully-fledged feature-rich website for your business with recent versions of AI. Which is usually required to take off your business to ultimate heights. But if you want to clear a single web page or a multiple static website you may create it using AI, after hit and trail.
Though there are future scopes for AI to create fully functional dynamic websites, with current versions and updates it is quite not possible.
How will AI change the web development in the future?
AI is poised to revolutionize web development in several ways in the future. Here are some potential changes we can expect:
1. Automated Code Generation
2. Enhanced User Experience:
3. Intelligent Design Tools:
4. Advanced-Data Analysis
5. Improved Search Engine Optimization (SEO):
6. Smarter Testing and Debugging:
7. Personalized Content Delivery:
While AI holds immense potential for transforming web development, it is important to note that human expertise and creativity will remain critical. Developers will still play a crucial role in guiding and training AI models, ensuring ethical use, and handling complex problem-solving tasks that go beyond AI's current capabilities.