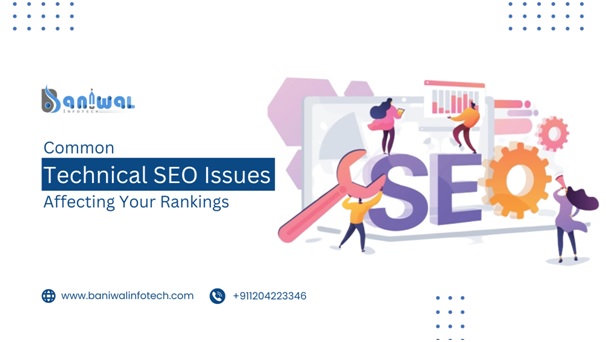 Optimizing your website for search engine visibility isn't a one-time process. The cycle to reevaluate, corrects, and reoptimizes keeps going. To get ranked on relevant keywords SEO professionals work for months. But did you know neglecting technical SEO issues might affect the overall rankings? One major technical SEO issue can negatively affect your website. Regardless of the fact that you might know a number of problems already, it can be a struggle to maintain website health in the ever-changing world of SEO, without the assistance of an experienced SEO Services Provider. The fight to keep pace with continual updates and avoid any sort of technical website or SEO issue is a part of daily routine.
Identifying technical SEO issues might be easy using certain tools like Google Search Console. However, what matters the most is to apply the relevant fixes. Every business with an online presence should prioritize technical SEO. An optimized website is crucial for attaining higher traffic. Technical SEO makes your website readily accessible to search engine crawlers. However, taking care of technical SEO issues is important to avoid your website from being affected by these issues.
Also Read: SEO Blunders You Have Been Making
List of Common Technical SEO Issues
•

No HTTPS Security:

A secure site is more important than anything else. You can identify this issue when you type your domain name into Google Chrome and it displays a gray background or in an even worse case, a red background with a not secure warning. This can be a serious site security concern and needs to be fixed immediately. You can fix it with the help of an SSL certificate from a certified authority. After you purchase the SSL, make sure to install it and your site will be secure.

•

Indexability Issues:

Indexability is basically a webpage's ability to be indexed by search engines. The pages that are not indexable can't be displayed on the search engine result pages and can't bring in any search traffic. According to SEO Services Provider in USA , to get a page indexed, it should keep up with these requirements:

• One of the basic requirements is that the page must be crawlable. This means that if you haven't blocked Google Bots from entering the page robots.txt or you have a website with fewer than 1000 pages, then you might not face any issues.

• The page must not have a noindex tag.

• Another requirement is that the page must be canonical which means it should be the main version.

Using the Ahrefs webmaster tools, one can fix this issue easily.

•

Sitemap Issues:

Ideally, a sitemap should contain only pages that you want the search engines to index. And when a sitemap isn't regularly updated, then a sitemap might show up broken pages, pages that became noindex, or that were de-canonicalized. Also, it might reflect the pages that are blocked in robots.txt. Depending on the issue, you will have to delete the pages from the sitemap or remove the noindex tag from the pages. And provide a valid URL for the reported page.

•

Missing or Incorrect Robots.txt:

A missing robots.txt file is a big red flag, as it can largely impact a website's health. Not just that, an improperly configured robots.txt file destroys organic site traffic. In order to find out whether there is any issue with the robots.txt, enter your website URL into the browser with a /robots.txt suffix. However, if you get a result that reads User-agent: *Disallow:/then you have an issue. In case you see disallow, then immediately talk to your developer. In case you have a complex robots.txt file, then you should review it line by line with your developer to make sure it is correct.

•

Multiple Versions of the Homepage:

Have you noticed that yourwebsite.com and www.yourwebsite.com go to the same place? It might seem convenient, yet it also means Google may be indexing multiple URL versions which dilute the site's visibility in search. It can get even worse if multiple versions of a live page confuse users and Google's indexing algorithm. And due to this, the site might not get indexed properly. This can be fixed by simply checking if different versions of the URL successfully flow to one standard URL. This can include HTTPS and HTTP versions, along with the versions like www.yourwebsite.com/home.html. You will have to check each possible combination. Moreover, if you discover multiple indexed versions, then you will need to set up 301 redirects or have your developer set them up for you. You should also set your canonical domain in the Google search console.

Conclusion!

Investigating the technical issues becomes essential to ensure that your website's overall health and rankings aren't hampered. And if you require any sort of professional guidance in such a scenario, then the Baniwal Infotech team will surely be at your service. We are a design, development, and SEO Services Provider Company working with businesses across the globe and helping them to mark their existence on the web. Find out how our team can help you with your business's online presence, by visiting our website today.