Application management services open more time for developers to focus on innovations and take vital business decisions. It synchronizes design, development, and testing efforts, resulting in lesser maintenance costs and intervals and better business performance and revenue streams.
We at Baniwal Infotech are experts in application management services and software services support. With our years of experience, we help businesses be at the top of their game by maximizing business growth. As a team of an offshore software outsourcing company from Noida, India, our forte is on all sides of software requisites on web and mobile platforms. Our goal is to help companies keep their business in the competition.
In line with that, we are thrilled to announce our latest review from Clutch, a prominent B2B review platform located in the heart of Washington, DC. Clutch encompasses the IT, marketing creatives, and business services industries. The site is famous for its collection of client reviews from different corporate clients and organizations globally.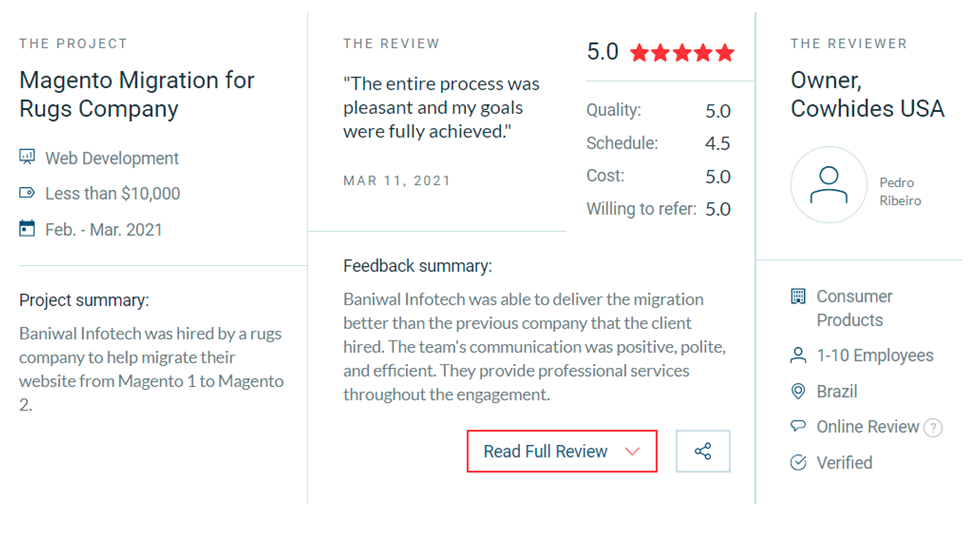 The review was about our work for a rugs company that needed help in migrating their website from Magento 1 to Magento 2. Our team seamlessly delivered the project to the client. During the process, our communication with the client was positive, professional, and efficient.
"The communication was very positive, polite, efficient, and I was very impressed with how professional everything was." - Pedro Ribeiro, Owner of Cowhides USA
As you can see above, our overall rating from the client was perfect five stars, indicating how satisfied they were with our performance.
Baniwal Infotech is thankful for our client's warm reception and appreciation for our services. We want to extend our gratitude to our partners who left amazing reviews on Clutch. You can see more of our services and projects on our Clutch profile.
Aside from that, we were also part of The Manifest's top application management services in Delhi, India. The Manifest is a B2B news platform dedicated to featuring a notable project from different companies.
This recognition opens many opportunities for us to gain more trust from our potential clients and showcase our services and advocate their importance. We are overwhelmed to have this acknowledgment.
Are you interested in our services? Check out our site and learn more about what we can do for you! We look forward to working together to achieve your business goals.