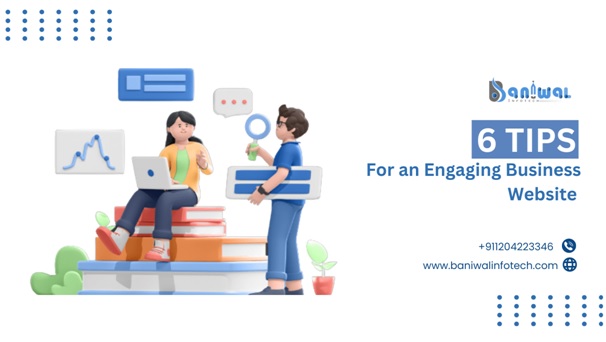 Surviving in an era where everything is online, is difficult for a business without an engaging website. It is a creative and irreplaceable way of representing a brand or business to a target set of audience. Regardless of the industry you belong to, availing of Web Development Services becomes a must to gain the audience's attention with a well-designed website. A lot of people nowadays spend most of their time on the Internet. They buy a product, use a service, read a blog, entertain themselves, or for various other reasons. And one of these reasons can be finding you online. If you aren't available online, then you might lose a lot of potential customers.
Owning a website is essential for every industry and every scale. An impactful online presence is imperative for businesses nowadays. A website builds a sense of trust among the users. The more information they find on the website, they are more likely to trust the company and be loyal to it. Most probably, a business website is the first thing online that a potential customer would interact with, and it makes it essential to design the website in the most engaging way. So, to ensure that your website is engaging enough to capture the right set of audience, here are a few tips to follow while starting a new business site.
Quick Design and Development Tips
1.

Keeping the Design Elegant-

The current trend is all about elegant, clean, and unique website layouts. Answering critical questions is a must through your website, but at the same time ensuring that it has a clean layout and is not too cluttered is something that you need to grab the attention of the customers. You need to think of the impression that you would want to make and the message you want to communicate to your customers. Thus, never overdo your homepage or the other pages of the website, as it might be distracting and confusing for potential customers.
2.

Showcase Your Products and Services–

As we mentioned earlier, your website is probably the first thing that your potential customer will be interacting with online. Thus, make sure that you showcase your products and services in the most appealing way. Including professional photographs of your products and services with crisp descriptions will work great in convincing your potential buyers.
3.

Site Load Times–

Nowadays, people are impatient while browsing online, especially when browsing a website. And in such a scenario, slow load times can trigger people to switch to competitor sites. Thus, it is crucial to audit the site's performance on a regular basis by simply checking the load times, site speed, correct formatting, and continuity with the text and images.

Also Read: Best Way to Improve Website Loading Speed
4.

Think From the Customer's Perspective–

Until and unless you can think from your customer's perspective, you won't be able to come up with a website that caters to your customer's needs. It is important to understand what information the customer wants from your website. This will help you to know what content you need to have on your website and what information would engage more customers. You can look for the best Web App Development Services Provider, who would understand the customer's perspective in a much better way.
5.

Mobile Responsiveness-

A responsive website is something you can not skip. People use different devices to access your website and a majority of them make use of their mobile phones. Thus, it is important to work on your website's responsiveness to ensure that your potential customers are able to access your company site from any device comfortably and your site adapts to different screen resolutions easily.
6.

Easy to Navigate–

Easy navigation often hooks the visitors to the website and lets them scroll through the site and avail of services smoothly. Offer a clear way to get back to the homepage no matter where your readers land. A Google search might take the reader to a page on the website other than the homepage.

Conclusion!

With all the competition online, ensuring a strong online presence becomes an inevitable segment. Businesses is utilizing their websites to secure a major chunk of sales and grow their visibility across the broadest market ever. Thus, if you haven't invested in a website yet, then it is time for you to invest in one. And the Baniwal Infotech team can help you with this. We are a design and development agency working with clients across the globe, offering the finest Web Application Development Services, and helping them in making a strong online presence. For more details visit our website today or shoot a mail at info@baniwalinfotech.com, and share your queries and requirements with our experts.