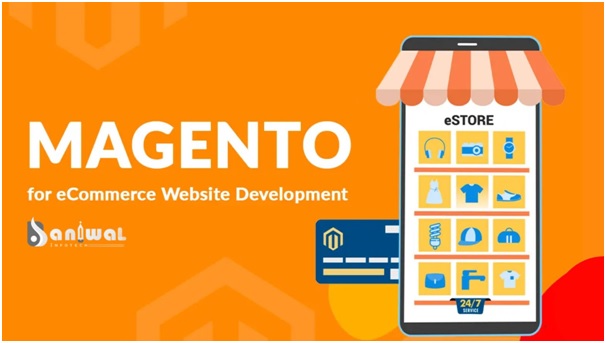 Magento is one of the major open-source platforms made for E-commerce web and mobile apps. Being a feature-rich web development framework, it is compatible to build fast, secure and complex website modules. With third-party tie-ups, it offers the most effective marketing and business management tools accessible to its users. Those can be free or paid, but with Magento, they have more compatibility compared to other platforms. Magento Services Provider can help you in creating a detailed, SEO and marketing-friendly website. You can draw your marketing strategy and align your goals accordingly with the inbuilt tools, plugins and features on the web development platform.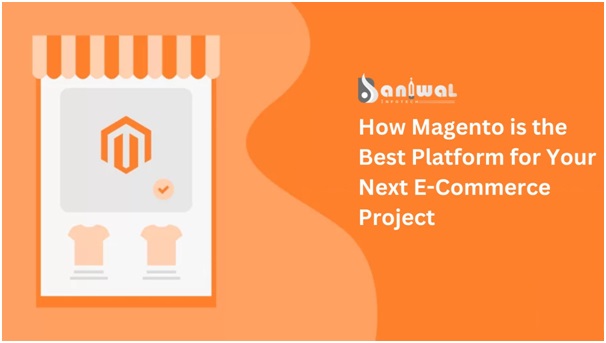 How Magento is the Best Platform for Your Next E-Commerce Project?
Open-Source –

With feature-rich platforms and a large community, Magento is an open-source web development platform. This means it is free to download, develop and use. With more than 3 lacs trained developers and 2,67,000 websites on Magento 1 and Magento 2 combined, it supports 0.9% of worldwide E-commerce websites. With such a large community, it holds a strong position as the first choice for E-Commerce website development.

Search Engine Optimization –

With clear written codes, and customizable clean templates, Magento is the most SEO Friendly web development platform. With SEO-friendly URLs compatibility, a mobile responsive system and a fast refresh rate. It adds most of the necessary factors for increased search engine ranking.
At Baniwal Infotech one of the major Magento Services Provider Company, we understand its benefits. We develop a feature-rich, fast and secure Magento E-Commerce store for the ultimate success of your business.

Also Read: How Magento Services Uplift Your Business?



Third-Party Tie-ups –

Due to prior third-party tie-ups, like email plug-ins, payment, logistics etc, it allows easy integration and seamless support to the required E-Commerce Services. Magento works freely with third-party integrations and smoothens the business working process.

Robust & Scalable –

Magento provides efficient product migration, with Varnish (HTTP Accelerator for cache). It helps in fast website loading and reduces backend server load by up to 90% while handling high website traffic simultaneously. This makes it fast, robust and easy to manage for any business. The best Magento E-commerce Development Company knows how to benefit from these features to develop a seamless website. These features are usually missed out by other platforms, but Magento keeps this as a priority.

Broad Customization Scope –

In Magento, you can customize almost anything. It offers customizable templates, categories, and buttons for your website's final display design. You can change the website look, by customizing the most compatible templates as per your business requirements. You can add or delete features, and add functionality and third-party platforms per requirement.

Platform Independent & Multiple-device Friendly –

Magento is a platform-independent web development platform. Web apps can be run on mobile, desktop, laptop, and tabs everywhere. Also, more than 90% of e-commerce orders are placed using a mobile device. In this scenario, Magento provides a mobile-friendly interface that gives you a competitive edge for customers placing orders using a mobile device. The Magento Services Provider understands its utility, hence prefers Magento to create products-based web apps majorly which required users to spend more time on the platform.

Advanced Features of Magento 2




Magento 2 is an upgraded version of the E-Commerce platform development giant Magento. This version, it is offering additional benefits in the form of an increased performance base, migration tools, enhanced marketing tools etc. You can avail all those advantages by hiring the most efficient Magento E-commerce Development Company like Baniwal for effective platform development. With Magento 2 being the talk of the town, let's understand how it is the optimum solution for your e-commerce store.

Email Remainder –

This newly added feature in the website framework enables you to send reminders to your customer. Whether it's regarding checking out if they have products in their cart or wishlist, visit the website if they were searching for any product etc. It encourages them to complete their purchase journey, which can be customized on a date or day basis from the admin panel.

Dynamic Block –

Using dynamic blocks enables the users to display any particular marketing message, to show as per the set command. It can be customized as per the customer's interest and the way of interaction. Hence result directly in active marketing campaigns.

Content Staging –

Through this feature Magento allows its user to add content-based campaigns. It can be turned on and off as per requirement from the staging dashboard. By hiring a Magento Services Provider Company, you can use this feature to aid your content marketing strategy and can increase the organic traffic on your website. Also, it can help you increase ROI on different paid digital marketing campaigns.

Fast Loading Time –

With a capacity to handle more than 10 million users per hour, Magento 2 has been the fastest version till now. It has also resulted in an almost 52% increase in the products and services being added to the cart as per research.

Migration Tools –

With Magento 2 you can migrate your products from one file or vendor to another. You can do it in just one click. This works as a boon for products-based E-Commerce, and if you are one, you don't want to miss that.

Framework Testing –

The functional framework testing allows end-to-end testing on Adobe and Magento Open Source Platforms. It helps the Magento E-commerce Development Company, to easily develop an error-free, solid and robust web app for your business. This result in enhanced security and an improved customer retention rate for your business.

Catalogue Management –

Magento 2 offers catalogue management, for your products. It can be arranged into categories and sub-categories also as per the customer preferences and search patterns. This helps you to showcase your star products on the upper shelves of your online stores.

Conclusion

Now we understand the importance of Magento 2 for your online store. You can develop a seamless E-Commerce store by hiring a Magento E-commerce Development Company. As it provides a feature-rich, complex yet fast and secure web development, it is one of the major web development platforms. Magento Services Provider Company understands the potential of new features and advantages added by Magento 2. We at Baniwal Infotech believe in the process of effective web development. With our experienced team and required tech stack, we have developed efficiently performing and successful web apps on Magento 2. Features like catalogue management, marketing campaign management, and content staging are opportunities to grow your business from the products and service display platform itself.