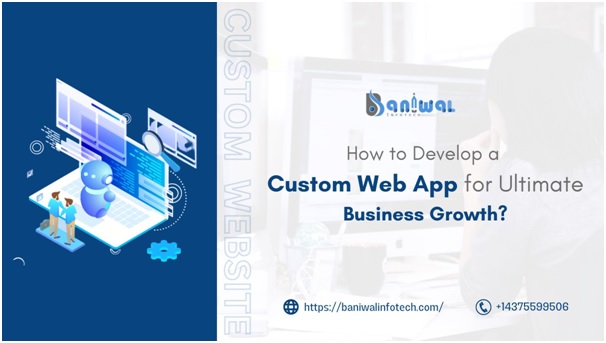 Web app platform plays an important role in any business. It helps enable an easy access point for consumers and establish a distinctive brand identity. But to identify yourself uniquely you need to turn to custom web application development for ultimate business growth. As it not only helps you grow your significant market but also helps users to identify you among your competitors. Let's understand how a custom web app is important for your business growth and how can you develop one for you to unlock your maximum business potential.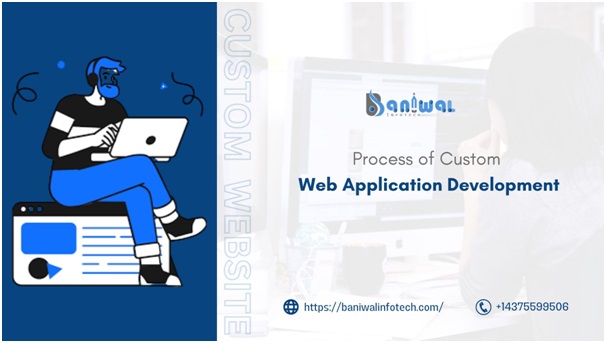 Process of Custom Web Application Development
Find the Most Promising Technology:

A seamless web app helps to have rapid business growth. Hence, the chosen web development should be promising and have a longer technological life apart from being easy to use. Thus instead of just opting for the most cost-effective technology go for the one which is easy to use, and understandable by users. An experienced custom web application development services provider can help you get one for your business as per the project requirements.

Introduce the Development Resources:

This is the second and most crucial step, in which you can analyze the kind of team and tech stack you need to deploy for web app development. You can either do it in-house or find third-party services for the same. But for better project output it is suggested to get it done outside the company if you already don't have the resources.

Draw a Layout Plan:

After deciding on the development process, draw up a work layout plan or a blueprint of your web app. If you have decided to outsource your project then the custom web application development Company already has the experience in doing so. With numerous project experiences, they can help you get a workable and feasible plan for your web app development process.

Start Working & Develop a Basic Model:

To complete your project on time, you need to start as soon as possible and perfection can follow. When you finalize your blueprint, deploy your resources and develop a workable model with all the required and basic functionalities to be developed in the system.

Modification & Deployment:

In this stage, you can even out the web page layouts, add additional features and functionalities, and make the UI more attractive with icons, illustrations, etc. After completing the model you can do formal testing and finalize the project, followed by deploying your custom web application to the live server suiting your business and project needs.

Maintenance & Support:

Your business success is highly affected by your server uptime. To ensure maximum visibility and availability, you need to opt for maintenance and support services to keep your web app up and running smoothly. These services are usually provided by the web app development company. But if you have developed it by yourself, you need to find someone who knows servers and website updations to tackle this either on a full-time or part-time basis.

Updation & Upgradation:

Every tech platform has its expiration date; it could b your server, your web development platform, or anything else in between. Thus you need to update your tech stack from time to time. For a custom web application development to run successfully, you need to update and upgrade your system frequently. This feature helps you to stay on trend with a fast and secure web app.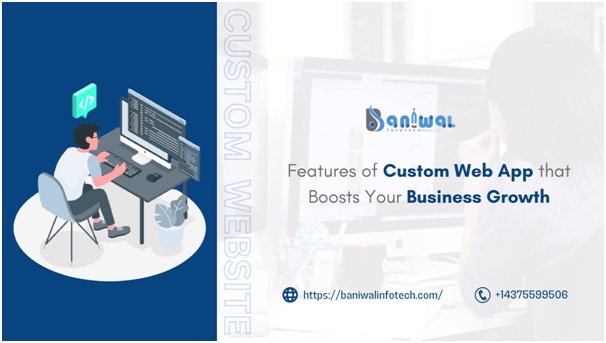 Features of Custom Web App that Boosts Your Business Growth
Brand Relativeness:

A custom web app helps your business to establish brand relativeness through customer touchpoints. Developing custom-built website applications gives your business a unique identity, supporting brand culture, brand colors, and special tag lines and characters used by the business to segregate itself from the market clutter.

Supporting Technology:

When you use a compatible tech stack for your business requirements it functions properly apart from supporting an attractive UI & UX design . A custom web application development Company is all you need to reach there. As a compatible tech stack, works as per your app functionality and performs optimally with the complex and feature-rich pages instead of slowing down the web app.

Brand Awareness & Customer Response:

Creating a distinguished web app helps your brand to establish a unique identity. This enables brand market awareness and encourages your potential users to identify you as a brand apart from market clutter. Hence resulting in the next time they see you either on an online or offline model they will recognize and respond to you in their manner. Either by sharing or buying something from you, or recommending you to others instead of just ignoring you. The Custom web application development services can help you to enhance customized touch points with icons, buttons, fonts, and characters used in your web app platform.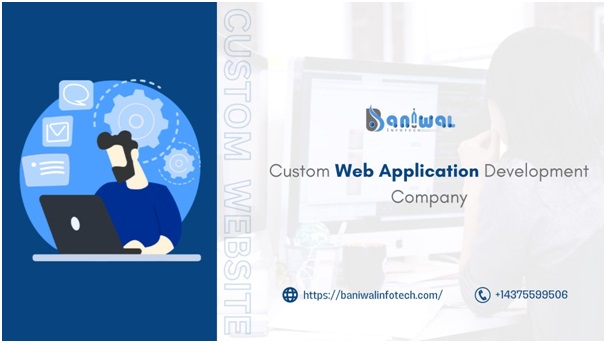 Conclusion:
To grow your business you need to establish a distinguished brand identity and stand out from market clutter. A custom web application development Company can help you identify the most compatible tech stack supporting your business requirement and develop a seamless web app platform out of it in no time. Though you can also develop it in-house for maximum efficiency it is suggested to get it developed outside by professionals. Custom web application development services are prominent in identifying the market gaps and giving your web platform the shape missing in the market while matching it with your brand culture, preference, and identity.
FAQs
How custom built apps benefit businesses?
A custom-built app benefits your business in multiple ways -
1. It helps you establish a unique brand identity.
2. It helps you stand out from market clutter.
3. It gives you an attractive and seamless web app development opportunity.
4. Your potential customers can identify you from your competitors effectively.
Why do businesses need custom web development services anyway?
Businesses require custom web apps for uninterrupted business growth & unique identity in the market. To understand this concept we can sum it up -
• Uninterrupted Business growth - By having a custom-built web or mobile app, you do not have the issues of copyright or infringement. Also with a unique platform design, you can overcome any technical error in the system easily. And on the other hand, you will surely not look like your competitor.
• Unique Brand Identity - With a customized web app, your potential customer can identify you apart from your competitors. With a seamless experience, they are going to love you more and more.
Why a custom website is better than a template?
A custom website is always better than a template. Let's understand why -
1. It gives a look and feel of a new web app rather than multiple existing ones on the internet.
2. A custom web app can always cater to your business need and can be updated as per the changing business requirements.
3. It gives a unique business identity.
4. A custom website gives you a chance to enhance user experience and modify the web app platform with suggestions and make it more seamless, fast, and secure.