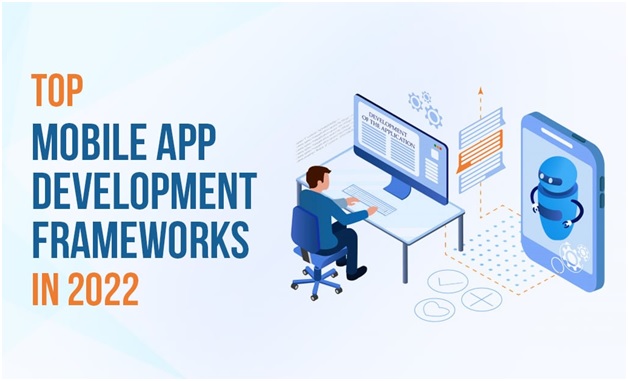 Getting to your potential customer's fingertips is now easy with a mobile app. As the demand for Mobile Application Development Services increases and as more and more businesses jump onto the bandwagon, it becomes essential to come up with robust mobile app solutions. And to come up with a smooth and robust app, choosing the right framework is very much essential. So, let us together find out what frameworks are the best for mobile app development for both Android & iOS!
What Is a Mobile App Development Framework?
Talking about an app development framework, it is basically a comprehensive tool that developers use for creating successful mobile applications. These frameworks equip developers with the desired access to a wide range of code libraries. API tools, SDKs, etc. A good framework can help a developer to build a feature-rich app solution without building it from scratch. Moreover, a framework is said to be a basic structure that can help in adding more details to the code in accordance with custom code and also offer a sustainable environment for app development.
Top 10 Mobile App Development Frameworks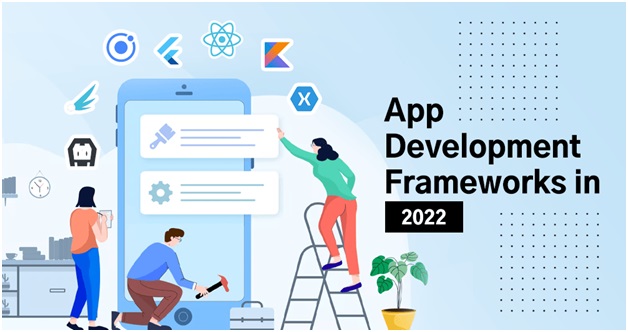 1.

Flutter

–This is one of the most commonly used UI SDK that enables developers to create user-friendly apps for mobile, desktop, embedded, and web platforms. Flutter is considered one of the most popular frontend frameworks that work on a single code base to develop hybrid iOS, and Android apps. The features of this open-source development framework include:

a. Hot reload

b. Native codes, third-party integrations, and platform APIs

c. Google Firebase support

d. Flexible UI

2.

React Native

– This framework stands amongst the most extensive app development frameworks. It is used across the globe and is embedded with JavaScript library code. The react native framework makes app building smooth for both Android and iOS. The react native design has a similar syntax to CSS, the reason being it doesn't use HTML or CSS. The features of this framework include:

a. Exceptional performance

b. Reusable components

c. Compatibility with third-party extensions

3.

Native Scripts

– The Native Script is a precise open-source framework that is used to build up native mobile applications entrusted with Angular, Typescript, Vue.js, SML, etc. This framework provides app native-like performance using all the iOS and Android APIs. The Native scripts framework is effective and offers some of the best built-in elements. The features of this framework include:

a. It provides full access to Android and iOS APIs

b. WebViews are not used in the native user interface

c. Cross platform application

d. Mission-critical business backing

e. Robust backend support

4.

Ionic -

This is an explicit framework that is used for making progressive web apps, hybrid, and cross-platform mobile applications. It is an accessible framework that uses Apache Cordova that allows the developers to develop an app for different platforms i.e., iOS, Android, and Windows. The developers use this framework to develop robust and feature-rich native apps. The perk of using this framework is that the developers can use various UI elements in their application design. The features of the ionic framework include the following:

a. Intuitive UI components

b. Quick and smooth development

c. Cordova plugin

d. JavaScript components

e. Framework compatibility

f. Strong community support

g. Complete control over app building

5.

Xamarin –

This is another well-known open source and cross platform development framework by Microsoft that is used for creating apps. it uses a software framework, .net and programming language C#. This framework offers a flexible native performance that allows businesses to deliver a unique user experience. The Xamarin framework allows the developers to develop an ecosystem with a backend, API, components, etc. This is supported by various tools, libraries, and programming languages and further allows the user to develop applications with support of an active community for Android, iOS, macOS, watchOS, tvOS, and windows. The features of this framework include the following:

a. Single code on multiple platforms

b. Diagnostic tools

c. Application loader

d. Android SDK manager

e. Storyboard files

f. Google emulator manager

g. Open-source tech with corporate support

h. Full development ecosystem

i. Compatible with wearables, IoT, and TV

6.

Swiftic

- The Swiftic feature was previously known as Como DIY, and is considered to be a do-it-yourself solution for building cross-platform Android and iOS applications. It is intuitive to use and is considered a great option for small businesses. The features of this framework include the following:

a. Available support from the Swiftic success team

b. Assistance in launching the app

c. Low learning curve

d. Push notification functionality

e. Customizable UX

7.

Mobile Angular UI

- This framework is basically an open-source UI framework that combines HTML5, Bootstrap, and AngularJS. The Mobile Angular UI framework allows the developers to use JavaScript libraries like Overthrow.js and FastClick.js. The features of this framework include:

a. Build HTML5 hybrid desktop and mobile apps

b. No jQuery dependencies

c. Build fully responsive interfaces with a super-small CSS file

d. Developer's community

e. Responsive framework

8.

Framework7

- This is an open-source development platform that helps software developers in making the future-ready web, desktop, and mobile applications that offer native experience. The features include the following:

a. Built-in grid system layout

b. High-performance and page animation

c. Clear JS API and flexible router API

d. Pre-styled widgets/components

9.

JQuery Mobile

- This framework is also considered as an HTML5-based UI system that programmers usually use to build highly responsive applications for desktops, tablets, and smartphones. The JQuery framework carries extensive support for Firefox, including windows, kindle, MacOS, and Blackberry. The features of this framework include the following:

a. Progressive enhancement and graceful degradation

b. Accessible rich internet applications

c. Theming and UI widgets

d. Uncomplicated API supporting user-friendly inputs

10.

Kotlin multiplatform mobile

– This is basically an SDK that helps in developing cross-platform mobile apps easily. This technology is based on a single code base that gives you the privilege to build high-end apps ready to work on both platforms. Features of this framework include:

a. KMM plugin for Android Studio

b. Cocoapods integration

c. iOS device launching with Xcode 13

d. Kotlin/Native debugger type evaluation
The Crux!
Merely breaking into the mobile app market doesn't guarantee success. In order to succeed, it is essential to pick an ideal framework, perform thorough research, build a strategy, and come up with an app that is efficient, functional, and elegant. If you are interested in getting a mobile app, web app, or website designed and developed, then feel free to get in touch with Baniwal Infotech - a Mobile App Development Services Company Drop us a mail at info@baniwalinfotech.com Our team of experienced designers and developers will help you in getting an app developed that can capture a larger audience base.